LAKE CITY
Udaipur Two-Day Tour
The Udaipur Two-Day Tour is a perfect choice for people who want to explore some of the most beautiful places in Rajasthan. The tour starts in the morning and you will be able to see picturesque palaces, heritage buildings, marble temples, traditional bazaars, lakes and lakeside. You can enjoy all these attractions during your tour. Udaipur, the city of lakes, is a beautiful place to visit. And our tours to Udaipur are jam-packed with itinerary that will let you experience the most important spots in the city and its environment.
This will give you an opportunity to visit four of the most famous places: Lake Pichola, FatehSagar Lake, Bagorekihaveli, and many more. All these places are very famous in India and all have their own unique features which cannot be seen anywhere else.
Udaipur two-day tour is the best way to explore the glorious history and heritage of one of Rajasthan's leading cities. The city of Udaipur stands as a unique blend of old and new, decadent yet dignified, and with a vibrant cultural life that is much more entertaining than it may seem at first glance. Discover the world famous city of Udaipur, the Rajputana, by way of its surrounding beautiful landmarks. This tour is a perfect start or end to your travels around India. It is a great way to see Udaipur and its surroundings.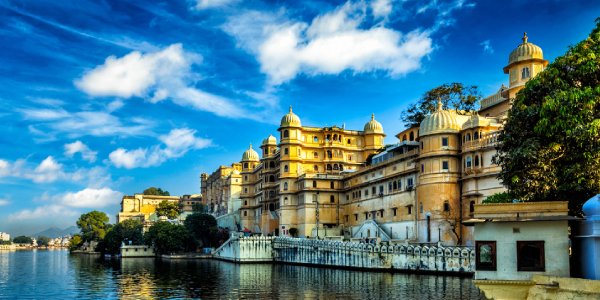 CITY PALACE
There are several eateries, shops and stalls along with the palace building outside its premises that makes it more attractive for tourists to visit. It has been designed in such a way that its architecture perfectly fits with the idea of traditional mysticism which is present all over India.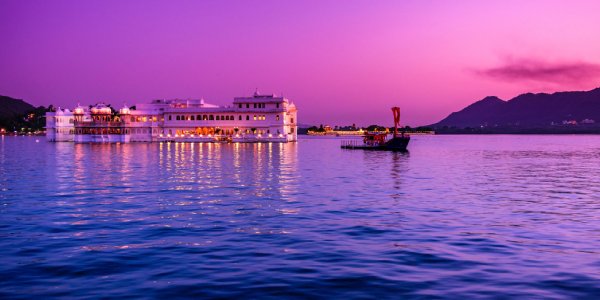 PICHOLA LAKE
During your visit to the Lake Palace, use a boat or a "chora" to gain an overview of the lake and its surroundings. Then, take a leisurely boat ride along the eight channels that crisscross Pichola lake. If you wish, you can opt for the mountain views in your boat trip.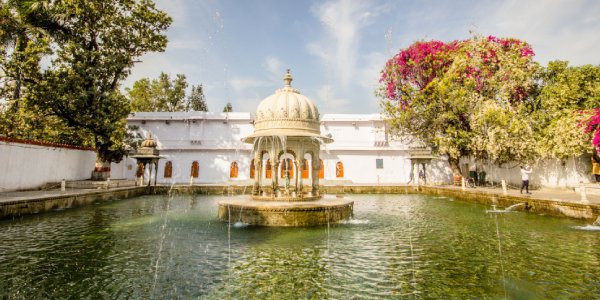 SAHELIYON-kI-BARI
On this tour, you will visit Saheliyon-ki-Bari Garden, one of the most beautiful gardens in India. It is located in Rajasthan and has been described as a stunning garden that's filled with exotic flowers and plants from around the world.
---
---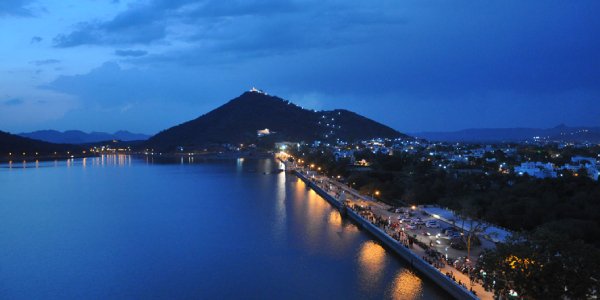 FATEH SAGAR LAKE
FatehSagar Lake is one of the biggest lakes in India and also a favourite tourist spot. There are many water sports activities such as boating and jet skiing available at this lake. Surrounded by green hills and multiple trees, the lake gives you a pleasant view that you will remember for years to come. Hire a cycle to enjoy the path around the lake.
JAG MANDIR PALACE
Jag Mandir Palace is located in Udaipur. This place is one of the most notable tourist places in Rajasthan. Jag Mandir Palace is a great example of Indian traditional architecture, which was built during the period when MaharanaUdai Singh was ruling over the area.
---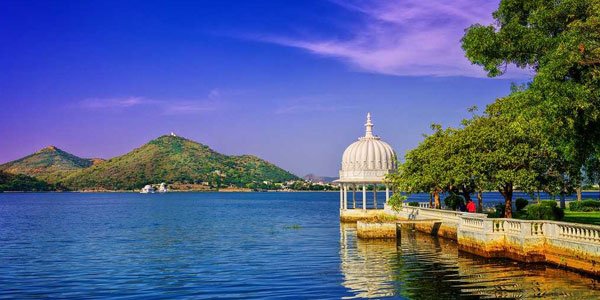 GULAB BAGH
This is probably the best place to have a picnic and have a very relaxing time with your family. The best time to visit the GulabBagh would be between mid-October and March when the weather is perfect for a pleasant tour. The Palace is spread over twenty-five acres of landscaped gardens with lakes, fountains and flowers all around it.
---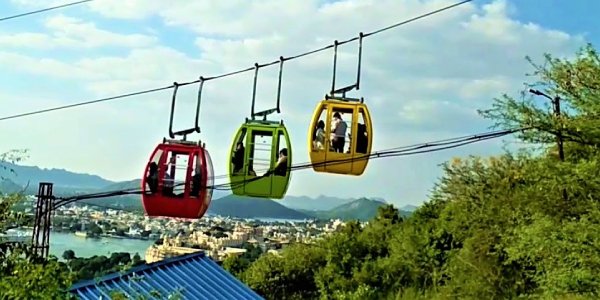 KARNI MATA (ROPEWAY)
The karnimata is a ropeway that connects Udaipur with site of mandir, lying on the hilly side. The main charm of Udaipur is due to this fascinating ropeway which takes you high above Udaipur city and then plunges you into the valley. The view from this distance is indeed breath taking, making this an ideal tour if you fancy seeing it all from a bird's eye view.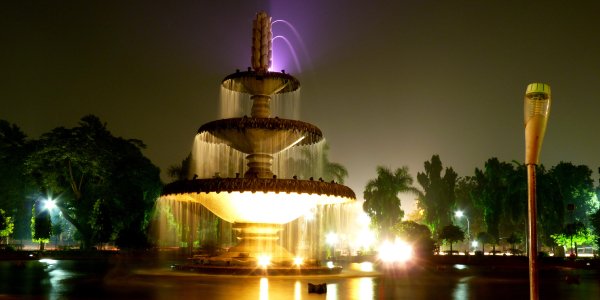 SUKHADIA CIRCLE
Sukhadia Circle is a tourist spot located in Udaipur. It has been named after a beautiful lake that is situated within this place. This circle includes several food spots and other interesting places to visit. It is also a good way to see the city at night when it's lit up with multiple lamps scattered about.
---
GANGOUR GHAT
GangaurGhat is one of the most popular spots in Udaipur. There are numerous touristy things to see and do at GangaurGhat and it's a relaxing place to visit if you're in the mood for a bit of peace. It's a popular spot among tourists from all over India.
---
---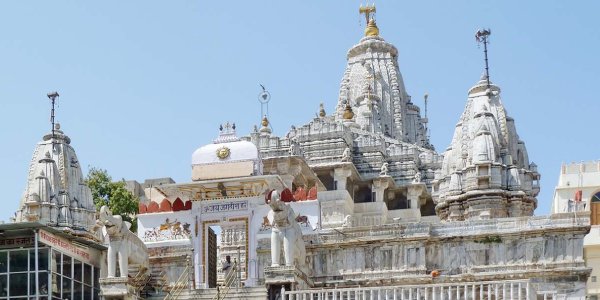 JAGDISH TEMPLE
In Jagdish Temple of Udaipur you will be able to see the amazing architecture and art. The temple was built in 16th century and is considered one of the most beautiful temples in India.
Get travel packages from Rajasthan tour and travels at best prices
Getting travel packages from Rajasthan tour and travels at best prices is simple when you buy from us. We are dedicated to provide you with cheap, efficient and customized services that will fulfill your travel requirements. If you are a traveller and looking for a travel packages, then contact us. We manage several tours in Rajasthan, with good hotels and meal.
Rajasthan is the largest state of India and it is a land of stunning lakes, ancient temples, incredible history and culture. If you wish to explore this unique paradise of India, then book your Rajasthan tour package at Rajasthan tour and travels. Discover the joy of traveling as well as the richness of Rajasthan through its different seasons, shades and beautiful cities. You'll also enjoy wonderful shopping, top-notch sightseeing and best deals during your trip. Rajasthan tour and travels is a renowned travel operator in the region with a vast experience of running tours, serving clients across India. We provide the best possible travel packages to our clients at the best price. Our journey begins with offering Rajasthan tour package, which includes sightseeing tour to Udaipur with hotel accommodation and sightseeing tour to Jaipur on any dates of your choice.