LAKE CITY
Udaipur Four-Day Tour
Udaipur is a Rajasthan's most popular tourist destination as well as one of the largest and most impressing places of Rajasthan. Though there are many places from where you can plan Udaipur's tour, this is definitely one of the best four-day tours that are worth your money. In fact, it is the most amazing trip within and around city itself that gives you the rare chance to explore all the nearby places.
The most luxurious and spectacular four-day tour in Udaipur is a one of a kind experience. It's a journey that leaves your heart and mind at peace, allowing you to take advantage of the splendour of nature, culture and history together with your soul mates. The Udaipur City Tour is an excellent way to explore the city and its rich cultural heritage. With our experienced and professional tour guides, you will enjoy the sights, sounds and experience of this beautiful city. The city of Udaipur offers you a variety of things to do from shows, shopping and cultural events to historic destinations or even an exciting boat ride.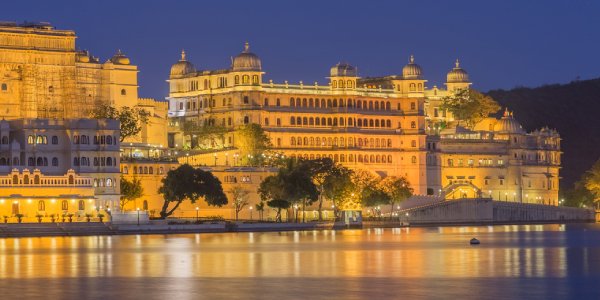 CITY PALACE
The beautiful gardens and fountains still hold their charm. Built by MaharanaUdai Singh II in the 16th century, the palace is one of the last remaining examples of Mewar architecture. It remains one of the most popular attractions in Udaipur's cityscape.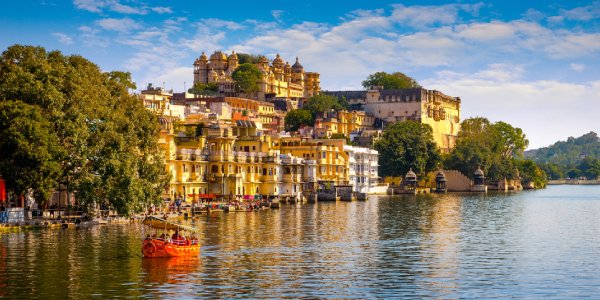 PICHOLA LAKE
If you're looking for a break from the hustle and bustle of city life, then head to Udaipur. Pichola lake is an ideal place for picnics and boating. Visit the many palaces scattered around this city and enjoy the history along with the scenic beauty surrounding it.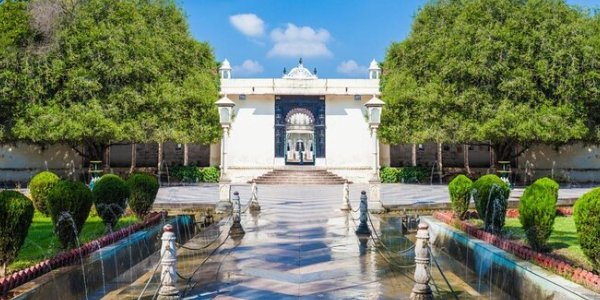 SAHELIYON-kI-BARI
Saheliyon-ki-Bari Garden (also spelled SaheliBhari) is a picturesque garden in city of Udaipur in Rajasthan. The garden was built by the Maharaja Sawai Man Singh II, who liked the scenic beauty of this place.
---
---
FATEH SAGAR LAKE
The FatehSagar Lake is one of the largest lakes in Rajasthan. It was constructed by MaharanaFateh Singh. The lake has a water supply and also provides drinking water to villages around it. Due to its majestic beauty and grandeur it receives ample attention and has won the hearts of the city people.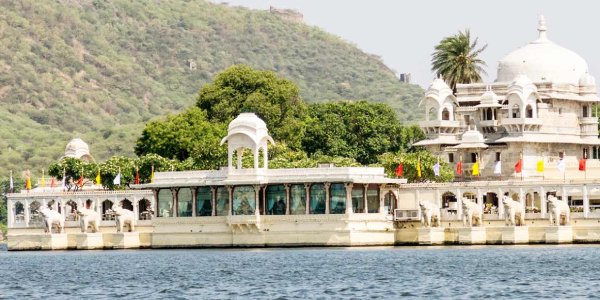 JAG MANDIR PALACE
A visit to Jag Mandir Palace is a complete experience in itself. This palace was built by Maharaja Jai Singh II in the year 1698. It is a fabulous palace and also a heritage museum housing several art and artefacts which are unique to Udaipur.
---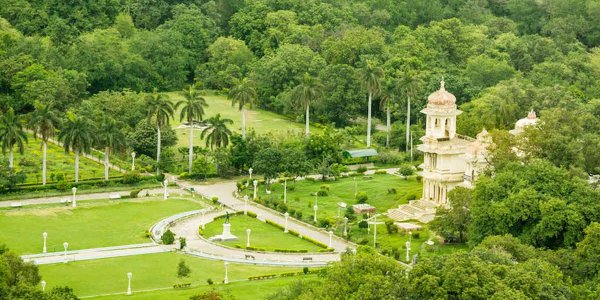 GULAB BAGH
The unique combination of fascinating history and natural beauty enriches the atmosphere of this city. You will surely experience a never-seen-before tourism experience in your journey to the sites like GulabBagh.
---
---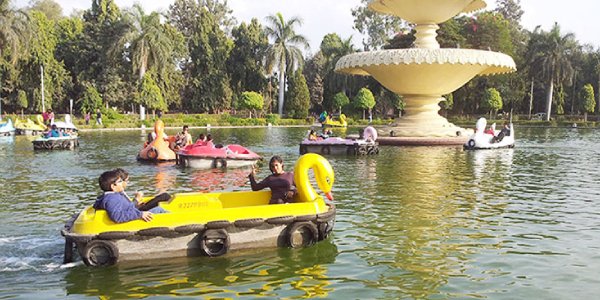 SUKHADIA CIRCLE
Sukhadia Circle is a popular tourist destination in Udaipur. It is an established historical landmark and tourist destination endowed with archaeological, cultural and religious value. Sukhadia Circle was initially built by the former Rana rule as a place for relaxation and rest.
---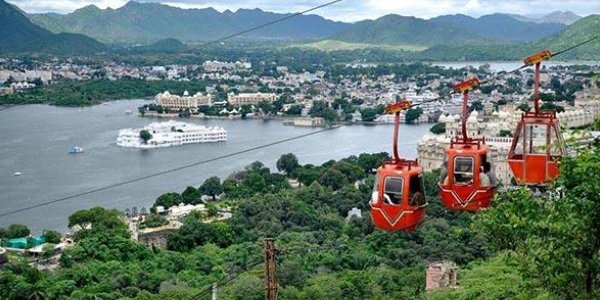 KARNI MATA (ROPEWAY)
On first impression, Karni Mata looks like a normal ropeway ride. It is just like any other tourist attraction in Udaipur. But unlike the normal tourist's attraction, this attraction deserves your special attention. You have to ride on a rope to step on the head of wicked serpent and then back, so as to make it up to the top.
GANGOUR GHAT
It has been a popular destination for centuries due to its natural setting and divine atmosphere. You can spend hours just sitting, watching the sun set or even enjoying your morning coffee with a view of the surrounding hills and if you are lucky enough around sunset, when it becomes illuminated from above by some magical light.
---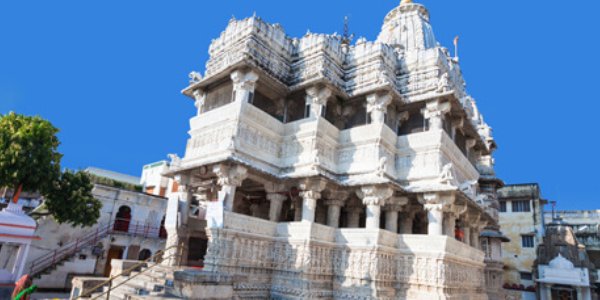 JAGDISH TEMPLE
The Jagdish Temple is a Hindu temple in Udaipur, Rajasthan, India. Built by MaharanaJagat Singh II, it is dedicated to the Hindu god Jagannath, who is known as the presiding deity of Ochhman Temple, which lies on one side of this very same construction.
One-day tour to kumbhalgarh fort from Udaipur on 3rd Day
Visit the historical kumbalgarh fort is an amazing destination. The temples in this region are scattered all over, most of which are full of history, while some of them are quite new and were built within the last few decades. Kumbhalgarh is one of the few forts of Rajasthan which you can reach from Udaipur by road.
The visit to the famous fort with its magnificent and huge fortification makes a perfect day trip from Udaipur. This place is situated on a hilltop position, spread over an area of 15 square kilometres and is surrounded by dense forest.It is known for its natural beauty and historical importance. This tour covers all the main attractions such as gates of glory, gateway of fort and royal palace.
One-day tour to Ranakpurjain temple from Udaipur on 4th Day
One-day tour to Ranakpur from Udaipur is really convenient. Tourist can visit the city of Ranakpur on one day's tour. All hotels in Udaipur are located nearby the place so that tourists can stay in their hotel. One-day tour to Ranakpur will be a perfect plan for tourist who wants to enjoy the beauty of Ranakpur.
The best part is you can visit the temple while staying at Udaipur as well. The trip takes approximately two and half hours that also includes a brief stopover at Lake. You will also get a chance to relax after the trip with some divine spa or leisure close by your hotel.
Get travel packages from Rajasthan tour and travels at best prices
Travel packages from Rajasthan tour and travels at our website offers an opportunity to people to be able to book their rail journey tickets, hotels and resorts at economical prices. Our rates are very reasonable as compared to other teams in the market, meaning that your traveling budget can be saved if you deal with us.
As the leading travel company, we also offer the best packages and travel services to Rajasthan, including Jaipur tours, Udaipur tours and more. If you are looking for Rajasthan tour packages, get in touch with us and save time, money and effort in the process. We have organized some of the highest value holidays and honeymoon packages at economical rates which can serve as your best travel packages from Rajasthan tour and travels at best prices.